Our Collection Photos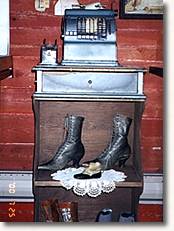 Many visitors come to the museum to marvel at the size of these boots! The cash register is from the Cloyne general store.
We have tried to give you a 'mini-tour' (or 'virtual' tour if you like) of our Museum on this page. Here you will find pictures and descriptions of a few of the articles on display.
All contributions are gratefully received.
Click on small photos below for larger version. (new window will pop up)
| | | |
| --- | --- | --- |
| Our Pioneer Museum sign. | Displayed outside the door of the museum are two buggy wheels and an oxen neck yoke. | This is a portable swing saw, part of John Potter's saw mill. |
| This knitting machine from 1929 was capable of producing 12 pairs of socks at a time. | Donated by Albert R. Brownlee, this organ was rescued by Mr. Brownlee from the Hayburn Church just before it was torn down. It is a lovely example of an instrument built in about 1902, complete with small shelves for lamps or candles, and was played often by the donor. | This is an accounts ledger from the Northbrook store of Casper Thompson. |
| A treadle sewing machine like this one was an important part of many households, as most articles of clothing were made by hand. | As recently as 1969, this telephone exchange was in use in Northbrook. | Doing the laundry was a much more labour-intensive job than it is today! |
---